Hollow Rods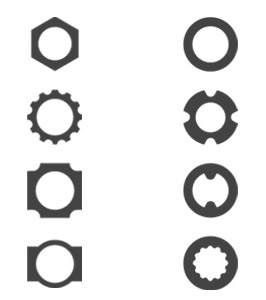 These are products that are essential in many applications that require bored mechanical parts.
Numerous applications, and in particular for the making of taps and valves (plumbing-heating industry), use many components that require the boring out of parts.
Brass hollow rods offers significant economic advantages, by way of removing the need for drilling operations, and very often the boring out of the parts.
We offers a wide variety of shapes (as seen in the example on this page) and sizes: The diagram below shows the dimensional range that is available (I.D. / O.D. in mm).
TECHNICAL DATA OF THE STANDARD PRODUCTS USED IN THE MARKET
Alloys EN 12168 designation
a) Physical condition; b) Tolerances on dim.; c) Lengths of rods; d) Packing type
Symbol
Number
CuZn36Pb2 As
CW602N

a) As manufactured and stress relieved;

b) according to EN 12168 : external tab.7 wall thickness tab.8;

c) Standard : 3000 mm. On request : 4000 mm;

d) Bundles 1000 kg with 4 iron strapson corrugated paper or plastic wrapped.

CuZn36Pb3
CW603N
CuZn37Pb2
CW606N
CuZn38Pb2
CW608N
CuZn39Pb0,5
CW610N
CuZn39Pb3
CW614N
CuZn40Pb2
CW617N